Monday, February 9, 2009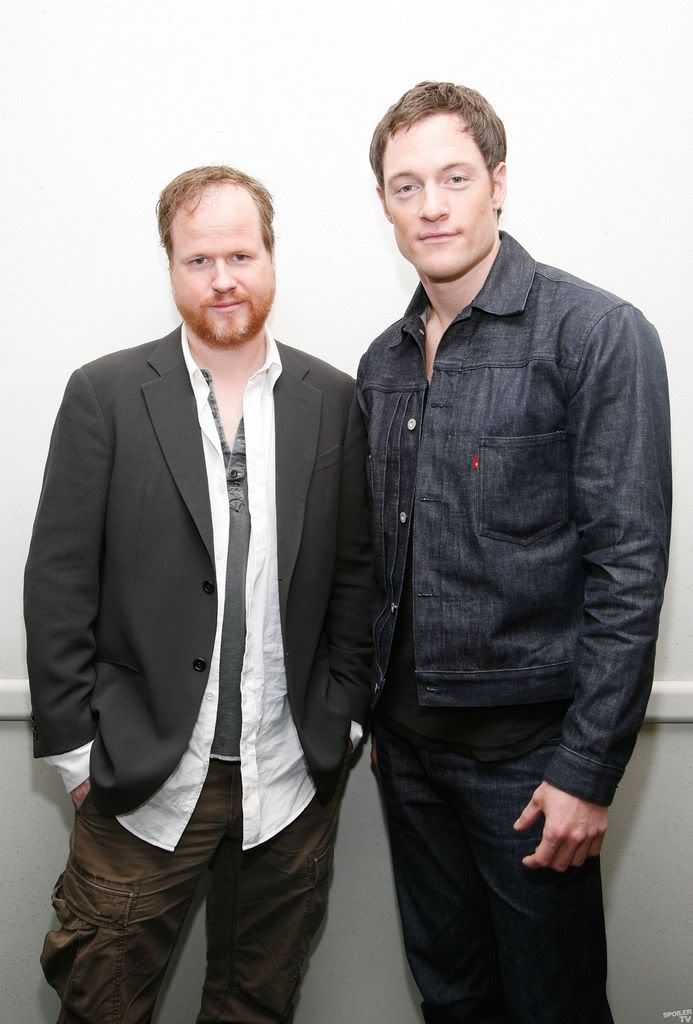 The weekend of February 6-8, 2009 brought the New York Comic Con to Manhattan's Jacob Javits Convention Center. Armed with weekend passes, Echo Alert's Frank and Andrew attended the convention and were amazed by all that they saw. The highlight of the weekend came on Sunday afternoon when Joss Whedon and Tahmoh Penikett hosted a panel discussion about
Dollhouse
in front of 3,000 fans at the Javits Center's IGN Theater, where they screened the first 10 minutes of the premiere entitled "Ghost." Andrew was able to take notes throughout the panel, and what follows is a spoiler-free play-by-play. We'll hold off on describing exactly what we saw of "Ghost" until the Spoilers section of Echo Alert Episode 0 Part 2.
JOSS WHEDON WALKED BY WHILE WE WERE WAITING IN LINE!!!! WE SAW HIM FROM…….a floor below and many feet away, while we were in a ridiculous line…..full of hundreds of other screaming happy fans trying to get his attention…..but still…..we like…..saw him and stuff….we have pics to prove it…
12:12 – WE'RE SITTING AT THE DOLLHOUSE PANEL NOW!!!! We can't WAIT for the panel to start at 1:00!!!!
We're sitting in the IGN Theater waiting for the panel to start while they are showing short videos and trailers from IGN.com.
Frank - "Jossomeness abounds"
And so it begins! Joss and Tahmoh just walked out and are introducing the first act of the premiere!
Joss gave a basic overview of the show's premise! And so begins the show! Joss - "Roll it, Clip Man!"
OH MY GOD THAT WAS AWESOME
Unfortunately, we didn't see any clips of Tahmoh in the preview. Joss - "This is Tahmoh-free TV."

Tahmoh Penikett – "I am in the show." He plays the FBI agent trying to expose the Dollhouse. No one has confidence that he'll get to the bottom of it because no one believes it even exists. He is obsessed and driven to expose the Dollhouse.
Joss – The Dollhouse is as anxious to hide as the FBI is to expose them.
TP – He is more motivated by meeting Echo (Eliza Dushku) to find the Dollhouse
Joss – "because it's Eliza's face"
TP – at first Agent Paul Ballard suspects something along the lines of human trafficking, the Russian mob. More motivation to help Echo.
Joss – talks about how the show idea started over lunch with Eliza while talking about her acting versatility. "I'm such a bitter, sad man….and this is my bitter, sad show! Welcome to it!!"
Joss – "It is far and away the most disturbing thing I've done since like season 6 of Buffy" Take the premise and unravel the people within it…Has a darker tint than the other shows. The audience comes away as unclean as the people in the show.
Joss – the Dollhouse is run by people ……no morals……nobody in the show is only one thing…finding these people and digging underneath. Definite statements about how corruptive this [the Dollhouse] can be.
Joss - People ask why so many things go wrong at the dollhouse every week and say that it seems like it isn't very well run. Because we need a show….that's why people keep dropping dead around Angela Lansbury
Joss – All of them come into it knowing they're doing something illegal. Key episode = episode 6! Involves Paul Ballard (Tahmoh) getting closer to Echo and the Dollhouse
Joss – The subject is unsettling and creepy, very fine line, difficult birthing process, trying to find out what the network was comfortable with. "I never knew what Angel was…and we didn't find out for 5 years." With Dollhouse, Joss and his collaborators took some time to find the show that they were excited about making, and that the network was excited about making. That's why they totally re-shot the series premiere. Even after tweaking to satisfy the network, the season will end the way they wanted originally, though through slightly different means than first intended.
Joss – They took the pilot apart to use in other episodes, but ultimately the plots of the pilot became irrelevant.
The network knows the show and they are working well with Joss and the show. Paired with Joss's "second favorite drama on TV," Terminator: The Sarah Connor Chronicles!
Tahmoh talks a bit about Battlestar Galactica
Joss – Paul Ballard gets beaten up a lot…
On wearing a suit – TP – I felt like James Bond
Joss – loved TP's presence and wanted him for Paul.
Joss – wants to continue Dr. Horrible and create other internet projects
Joss – drastic differences between episodes. "Every episode is a pilot […] your lead is also a guest star."
The house lights come up for audience Q&A – Joss –"There's people here?!?! I shouldn't have said half of that!!"
Q&A:

Musical episode of Dollhouse?

Joss – Eliza has a beautiful singing voice
TP –

I

can't sing

What do you do to give your characters life and depth?

Joss – Everybody matters. The second thug from the left is there. Everyone is there for a reason. Every character should be able to articulate who they are.

What was the challenge with Dollhouse?

Joss – The leap/challenge

was

Dollhouse

. "I'm scared witless by how people are going to react to what we're doing."

Joss just quoted Broadway Baby!!
What other projects would you like to try?

Joss – "If I could try anything I haven't done, I'd want to do a frilly costume drama." Something Victorian.

On Friday night, DC Comics screened their new Wonder Woman animated feature, to which Nathan Fillion lent his voice talents. Nathan recorded a video introduction in which he joked that he was busy working on Serenity 2.

Joss – "I think I speak for everyone here when I say….Nathan's a c**k."
So there's our panel overview. Joss and Tahmoh were hilarious and seemed genuinely excited about the show. Andrew worked hard at typing up these notes and I thank him for it. He really captured the spirit of the panel. Also, we'd like to thank our friend Tim who accompanied us to the Con and acted as cameraman for our video blog entries. We hope you enjoyed them. As I said earlier, we'll go in-depth with all the juicy details from the first act of "Ghost" in the Spoilers section of the next episode of Echo Alert, which should be up on the feed tomorrow. See you soon! Four more days to Dollhouse!
Posted by

Frank
at 11:19 AM

About Echo Alert
Echo Alert is a podcast devoted to Joss Whedon's
Dollhouse,
a short-lived TV series starring Eliza Dushku, and now a comic book series published by Dark Horse Comics. Hosts Frank and Faith discuss new issues of the comic at length and provide their insights into where the plot is headed.

Tags