Monday, August 17, 2009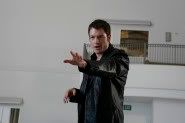 Well, it was bound to happen sooner or later. The first images from episode 2.01 "Vows" have surfaced, giving us a clue as to the reason behind the episode title while raising new questions. The images are low resolution, but still very cool. Check out the full set of photos as well as some new cast promo shots at the
"blank_dolls" Flickr feed.
Hopefully we'll be seeing more pictures like these for future episodes!
Posted by

Frank
at 11:42 PM

About Echo Alert
Echo Alert is a podcast devoted to Joss Whedon's
Dollhouse,
a short-lived TV series starring Eliza Dushku, and now a comic book series published by Dark Horse Comics. Hosts Frank and Faith discuss new issues of the comic at length and provide their insights into where the plot is headed.

Tags