Monday, October 19, 2009
Lucky us! Here's our second interview with Miracle Laurie! This time, we caught up with her at Big Apple Con in New York City. Miracle was very gracious and let us hang out at her booth while answering some of our questions, as well as a couple sent in by some of you. Thanks, Miracle!
Ms. Laurie's scarf furnished by Faith (the Vampire Slayer)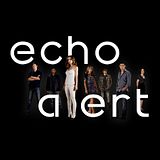 [iPod/iPhone]/[
Length:
00:08:34]
[Subscribe AAC]
[Subscribe MP3]
About Echo Alert
Echo Alert is a podcast devoted to Joss Whedon's
Dollhouse,
a short-lived TV series starring Eliza Dushku, and now a comic book series published by Dark Horse Comics. Hosts Frank and Faith discuss new issues of the comic at length and provide their insights into where the plot is headed.

Tags