Thursday, January 14, 2010
Ou est le Andrew? With their cohost still trapped in the Paris Dollhouse, Faith and Frank discuss the game-changing "Getting Closer" episode and dive into your feedback. Stay tuned to the very end for a montage of your voicemails! Frank is really proud of it! Tune in to Fox this Friday, January 15 at 9/8c for the penultimate episode of Dollhouse, "The Hollow Men."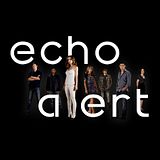 [AAC]/[Length: 1:02:42]


About Echo Alert
Echo Alert is a podcast devoted to Joss Whedon's
Dollhouse,
a short-lived TV series starring Eliza Dushku, and now a comic book series published by Dark Horse Comics. Hosts Frank and Faith discuss new issues of the comic at length and provide their insights into where the plot is headed.

Tags