Sunday, January 24, 2010
As the series winds down, the trio are finally together to discuss "The Hollow Men" and announce some exciting plans for the coming week. Remember! The series finale "Epitaph Two: Return" airs this Friday, January 29 at 8/7c. We'll begin a trivia game at 9 ET on our Twitter account (@echoalert), immediately followed by our LIVE finale party show at 10 ET over at live.echoalertcast.com! Join the fun! And email in your questions for our upcoming interview with Miracle Laurie!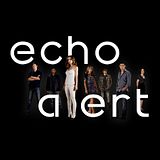 [AAC]/[Length: 1:10:29]


Posted by

Frank
at 9:50 PM

About Echo Alert
Echo Alert is a podcast devoted to Joss Whedon's
Dollhouse,
a short-lived TV series starring Eliza Dushku, and now a comic book series published by Dark Horse Comics. Hosts Frank and Faith discuss new issues of the comic at length and provide their insights into where the plot is headed.

Tags