Friday, February 27, 2009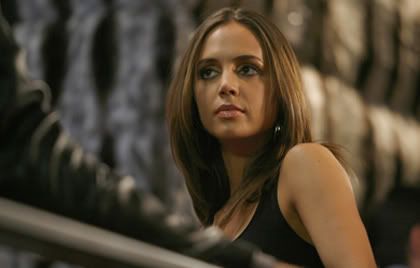 Episode 1.03 "Stage Fright" airs tonight! After it airs, send us your comments via
email
, voicemail (206-202-0837),
Twitter
, and the
forums
. We'd love to hear what you liked about the episode, what you didn't like, and your theories about the future. And remember, if you can't watch the episode live tonight, be sure to record it or catch it on
Hulu
or
iTunes
. We'll be recording this weekend and hope to have the podcast up by Monday!
Episode Description:
Echo provides protection to a pop star by becoming her backup singer. Ballard's investigation, meanwhile, takes a wrong turn that may prove dangerous; and Lubov has a secret. Jaime Lee Kirchner: Rayna Russell. Cloie Wyatt Taylor: Chantal. Graham Norris: The Fan.

Airs: 27th February 2009

Source:
SpoilerTV
Posted by

Frank
at 7:00 AM

About Echo Alert
Echo Alert is a podcast devoted to Joss Whedon's
Dollhouse,
a short-lived TV series starring Eliza Dushku, and now a comic book series published by Dark Horse Comics. Hosts Frank and Faith discuss new issues of the comic at length and provide their insights into where the plot is headed.

Tags