Sunday, March 1, 2009
This week Andrew & Frank recap and comment on episode 1.03 "Stage Fright" and their likes, dislikes, and predictions for the future as the plot thickens.

Once again, the podcast will be available in Enhanced AAC format as well, so be sure and give that a try!

Timestamps:

0:00 - Greetings
3:40 - Echo Alert News
6:59 - Dollhouse News
14:13 - "Stage Fright" Episode recap & discussion
57:07 - Listener Feedback
1:06:27 - Spoilers: "Gray Hour" trailer audio, FOX official description, promo pics, "Alpha" actor announcement, and speculation
1:18:25 - ????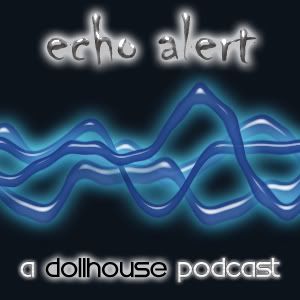 [
Length:
1:19:21]
[MP3]

About Echo Alert
Echo Alert is a podcast devoted to Joss Whedon's
Dollhouse,
a short-lived TV series starring Eliza Dushku, and now a comic book series published by Dark Horse Comics. Hosts Frank and Faith discuss new issues of the comic at length and provide their insights into where the plot is headed.

Tags