Wednesday, March 11, 2009
This week's episode finds Andrew and Frank discussing another great episode of Dollhouse entitled "Gray Hour" and talking about news and rumors about the second half of the season. They also read your emails and rejoice at having crossed the pond! Scotland!

If you want to continue hearing our episodes in MP3 format, you will need to subscribe to our new MP3 feed at www.echoalert.tk or by searching for it on iTunes. Starting in two weeks, MP3s will no longer be available in the AAC feed!

Timestamps:

0:00 - Greetings
01:55 - Echo Alert News
05:05 - Dollhouse News
09:37 - "Gray Hour" Episode recap & discussion
1:00:18 - Listener Feedback
1:13:30 - SPOILERS: "True Believer" trailer audio, FOX official description, promo pics, speculation, spoilery interview news
1:27:17 - ????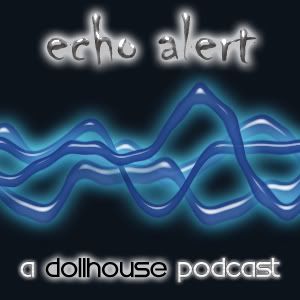 [
Length:
1:28:14]
[MP3]

About Echo Alert
Echo Alert is a podcast devoted to Joss Whedon's
Dollhouse,
a short-lived TV series starring Eliza Dushku, and now a comic book series published by Dark Horse Comics. Hosts Frank and Faith discuss new issues of the comic at length and provide their insights into where the plot is headed.

Tags