Friday, March 6, 2009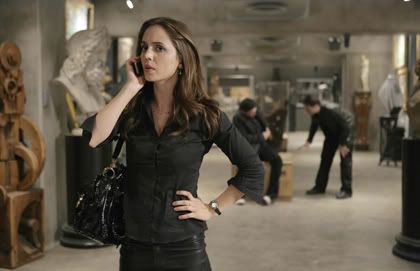 Episode 1.04 "Gray Hour" airs tonight at 9/8c and it promises to be especially interesting! Once it ends, share your thoughts with us! You can watch the trailer
here
. As always,
Emails
, voicemails (206-202-0837),
forum
posts,
Twitter
replies and Direct Messages, and comments here on the site are always welcome and we'll include as many of them as we can in this week's podcast! And remember, if you can't watch the episode live tonight, be sure to record it or catch it on
Hulu
or
iTunes
.
Official FOX Description:
ECHO BECOMES AN EXPERT SAFE-CRACKER IN ORDER TO PERFORM A DANGEROUS ART HEIST ON "DOLLHOUSE" FRIDAY, MARCH 6, ON FOX

Echo's stint as a midwife doesn't prove as laborious as when she becomes an expert safe-cracker, and more than an invaluable piece of art is stolen from her on the engagement, forcing Sierra to take on a familiar persona. Agent Ballard gives Lubov an ultimatum, and Adelle confides shocking information to Topher in the "Gray Hour" episode of DOLLHOUSE airing Friday, March 6 (9:01-10:00 PM ET/PT) on FOX. (DOL-103) (TV-14 D, L, V)
Posted by

Frank
at 8:00 AM

About Echo Alert
Echo Alert is a podcast devoted to Joss Whedon's
Dollhouse,
a short-lived TV series starring Eliza Dushku, and now a comic book series published by Dark Horse Comics. Hosts Frank and Faith discuss new issues of the comic at length and provide their insights into where the plot is headed.

Tags